Grew MFG 200 GRS Cuddy Boat Covers
Low Prices & Free Shipping on Grew MFG Boat Covers
Custom Fit Boat Covers
Custom covers are patterned and tailored for the specific make and model of boat
Shoretex Custom Covers
Made in 25 Business Days or less
Made for: Grew MFG 200 GRS Cuddy


Made for years: (2008 - 2009)
Available Fabrics
SunBurst
Travel Tuff
Prism
Price
$492.99
$574.99
$654.99
Taylor Made Custom Covers
Made in 14 Business Days or less
Made for: Grew MFG 200 GRS Cuddy Cabin I/O


Made for years: (2009)
Available Fabrics
Hot Shot
Ultima
Semi-Custom Fit Boat Covers
Semi-Custom covers are made by boat style to fit a variety of models
Taylor Made Semi-Custom Covers
Made in 14 Business Days or less
Fits: V-Hull Cuddy Cabin Boat 20' I/O

Fits years: (2009)
Available Fabrics
Hot Shot
Material: 100% polyester
Weight: 6.5 oz. marine polyester duck
Warranty: 5 year limited warranty
Material: 100% polyester
Weight: 13 oz. coated marine polyester
Warranty: 5 year limited warranty
Material: 100% polyester
Weight: 9 oz. two-ply double coated marine polyester
Warranty: 5 year limited warranty
Material: Acrylic coated polyester
Weight: 6.25 oz. per square yard
Warranty: 5 year limited warranty
Material: Urethane-coated polyester.
Weight: 7 oz. per square yard
Warranty: 5 year limited warranty
Custom Covers vs. Semi-Custom Covers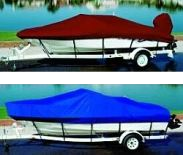 Custom Boat Covers are patterned and tailored for the specific make, model, and year of the boat.
Semi-Custom Boat Covers are made by boat style to fit a variety of models.
Engine Type & Boat Covers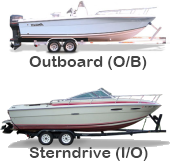 Outboard (O/B) - Removable engine mounted to the transom of the boat.
Sterndrive or Inboard/Outdrive (I/O) - Permanent engine mounted on stern of boat with portion of engine (the outdrive) in the water.
Inboard (I/B) - Permanent engine mounted in the center or stern of boat with only the propeller shaft exposed to water. Inboards should use the I/O cover.