Tracker Marine M-236
Semi-Custom Boat Covers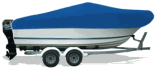 Verify the boat style & length most similar to your Tracker Marine M-236
Center Console
Center Console Boats with T-Tops
Conventional V-Hull Runabout
Conventional V-Hull Runabout with Tower
Conventional V-Hull Runabout with Walk-Thru Transom
Euro Style V-Hull Runabout with Walk-Thru Transom
Euro Style V-Hull Runabouts
Euro Style V-Hull Runabouts with Tower
Jet Boat
V-Hull Center Console Shallow Draft Fishing Boat
Sorry, No Custom Boat Covers Found!
Unfortunately, a custom cover is not available for your:

Tracker Marine M-236
However, you can still find a great new cover for your boat.

We offer an extensive line of semi-custom covers for all styles and sizes of boats.

Simply select your boat style and boat length to find a great fitting boat cover at a lower price.