Sunchaser 8524 Classic Cruise
Semi-Custom Boat Covers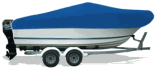 Verify the boat style & length most similar to your Sunchaser 8524 Classic Cruise
Pontoon Boat
Fits:
Pontoon boats when the bimini top or hard top is folded down
Accommodates:
Boats with or without windshields or windscreens
Outboard or I/O stern drive models.
Sorry, No Custom Boat Covers Found!
Unfortunately, a custom cover is not available for your:

Sunchaser 8524 Classic Cruise
However, you can still find a great new cover for your boat.

We offer an extensive line of semi-custom covers for all styles and sizes of boats.

Simply select your boat style and boat length to find a great fitting boat cover at a lower price.