Crownline 330 CR
Semi-Custom Boat Covers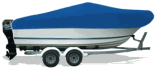 Verify the boat style & length most similar to your Crownline 330 CR
Walk Around Cabin Boat w/Hard Top
Fits:
Walk around cabin boats with hard tops
Ordering Notes:
Boats with deep motor wells, or with outboards mounted on "brackets", use stern drive pattern
For boats with bow pulpits add the length of pulpit to centerline length.
Walk Around Cabin Boat w/Hard Top:
Sorry, No Custom Boat Covers Found!
Unfortunately, a custom cover is not available for your:

Crownline 330 CR
However, you can still find a great new cover for your boat.

We offer an extensive line of semi-custom covers for all styles and sizes of boats.

Simply select your boat style and boat length to find a great fitting boat cover at a lower price.