Arriva Boat Covers
Custom & Semi-Custom Boat Covers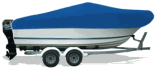 You have got one of those rare boats if you have an Arriva. These were only made in specific years and for just a short time. So, you may as well protect your watercraft with an Arriva boat cover from iboats.com. Custom covers are going to be hard to obtain and expensive to make locally. We have so many different semi-custom options that we can find a price and fit that will work for you. We have top of the line manufacturers with industry leading warranties. We offer the world renowned Sunbrella material and other strong polyester fabrics. This means, depending on fit, you can travel with your cover on. We also have options if you moor your vessel as well. If you have questions, our friendly customer service is always willing to help. You may also have special accommodations we may need to consider, and they can help with that as well. We want to be your trusted source on the water, and we will do that by helping you get the perfect Arriva boat cover.

One of the leading watercraft producers in the world owns the brand name and that is U.S. Marine (Brunswick Corporation). It started in the late 1980s and was built off and on until the late 1990s. It had its own unique design, but the hull was based largely on the Bayliner Capri hull. There were different perks you got with the Arriva line though. The beauty of these vessels is that the hull is a runabout style, but it looks like a performance boat that is built for speed. You can see that in the design of the windshield that looks swept back. It has bow rider options and closed bow options. The entire design is strong with reinforcements to provide support for the engine (typically Mercruiser Alpha One), drives, and hull components. It is a beauty that you will not want to watch slip away. So, get a cover from iboats.com.
Don't Know Your Boat Model?